DiarRice™ Digestive Support for Dogs and Puppies
DiarRice™ is the only over the counter canine probiotic with prebiotic that has been proven to support a strong immune system in your dog while it nutritionally addresses the symptoms and discomfort of dog diarrhea.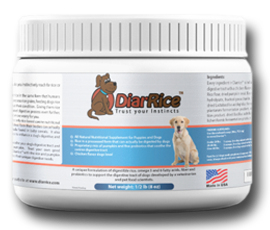 A unique formulation of digestible rice, omega 3 and 6 fatty acids, fiber and probiotics to support the digestive tract of dogs developed by a veterinarian and pet food scientists.
Diarrice™ is the patent-pending breakthrough formulation of rice and probiotics developed by a veterinarian and pet food scientists to address the specific needs of dogs that are experiencing the discomforts of diarrhea.  Get DiarRice now or read on to learn more about how and why DiarRice works so well!
Many people trust their own instincts and give their dogs rice from their kitchen pantries thinking that 'if it works for me, it should work on my dog'.  Unfortunately, rice that is sold in grocery stores for human consumption is usually in whole grain form - which dogs cannot digest.  Their sensitive digestive tract is not able to process these grains, leading to even more stress on their already irritated GI tract.
Trust your Instincts
Your instinct to offer rice is almost right - your dog just needs specially processed rice and the right probiotic blend to treat the runny stools, stomach upset, foul smell and gas that your dog is suffering from when they get diarrhea.
Diarrice™ gives your dog everything their gut needs to restore a healthy and balanced digestive system and strengthen their immune system.
High quality probiotic supplement for dogs with diarrhea
Supports a healthy digestive system in dogs
Can be given daily or just when diarrhea symptoms appear
Delectable chicken and pumpkin flavor
Includes high quality dietary fiber
All natural
Prebiotics work  fast to relieve diarrhea discomfort
Blends well with canned or dried food
Made in the USA by a practicing veterinarian and pet probiotic scientists

Do You Know What's In the Diarrhea Remedies You Are Giving Your Dog?
| | Diarrice® | FortiFlora® | Pepto Bismol® | Kaopectate® | Boiled Chicken | Boiled Rice Grains | Pumpkin |
| --- | --- | --- | --- | --- | --- | --- | --- |
| Proprietary blend of probiotic strains to rebalance intestinal flora, reduce pathogenic micro-organisms and toxins in GI tract | ☑ | ☑ | | | | | |
| Addresses foul smell and gas | ☑ | ☑ | | | | | |
| Supports a healthy canine immune system | ☑ | ☑ | | | | | |
| Contains antioxidants | ☑ | ☑ | | | | | |
| Prebiotic blend to help probiotics work faster | ☑ | | | | | | |
| All natural ingredients | ☑ | | | | | | |
| Easily digestible | ☑ | ☑ | | | ☑ | | ☑ |
| Reduces gas and discomfort, soothes digestive tract | ☑ | ☑ | ☑ | ☑ | | | ☑ |
| Firms stools | ☑ | ☑ | ☑ | ☑ | | ☑ | |
| Formulated just for dogs and puppies | ☑ | ☑ | | | | | |
| Contains stool firming pectin | ☑ | | ☑ | ☑ | | | |
| Contains bismuth which may be harmful to certain dogs | | | ☑ | ☑ | | | |
| Easy to feed chicken liver and pumpkin flavor dogs love | ☑ | | | | ☑ | | ☑ |
| Contains rice in an easily digestible form | ☑ | | | | | | |
| Works practically overnight | ☑ | | | | | | |